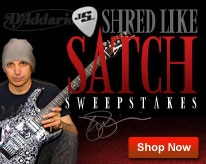 Shred Like Satch Sweepstakes

Win a custom-built Ibanez JSBDG electric guitar signed by Joe Satriani! Just pick up a set of D'Addario guitar strings (electric, acoustic, or classical) for a chance to win one of 11 guitars autographed by the shred-maestro himself. Created in collaboration with Satriani, the 11 guitar models are indeed an extension of his playing: finely nuanced and capable of staggering heights of musicality. All guitars are signed by Joe and include a one-of-a-kind, hand-drawn Planet Waves guitar strap. Whether you need to freshen up your sound with new strings today or in a few weeks, now's the time to grab 'em—every set you buy is a chance to win!

One Grand Prize Package – an Ibanez JSBDG Satriani "Black Dog" Signature Model signed by Joe Satriani plus a D'Addario & Planet Waves guitar accessories pack including:

* 1 Joe Satriani hand-drawn leather guitar strap
* 7 Joe Satriani signature straps (1 of each design)
* 10 Packs of Joe Satriani signature picks
* 10 Packs of Joe Satriani Chrome Dome picks
* 50 Sets of D'Addario XL electric guitar strings

Grand Prize is valued at $8,931.00.